After I did the doodles on the last post, I decided that I wanted to try painting something that would actually take some thought and be a little more challenging. So, I painted a portrait. This portrait is roughly based off of a picture of Marlon Brando..I didn't make them exactly alike, but I think you can sort of see the resemblance.

Original Photograph: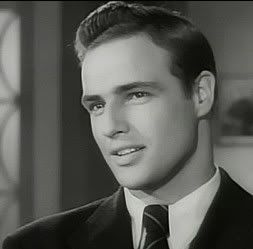 My Interpretation:
I don't think it's that awful. Maybe even pretty good for my first attempt at a portrait. I felt pretty successful after painting this one, so I went on to paint several more black/white portraits on a colorful background. I think I've done around 10. Some weren't so successful, unfortunately. I'll post them eventually.
So, feel free to make suggestions, give me tips, or criticize.

Thanks,
Meg