This post isn't about a painting. Yesterday, I decided to transfer to Marshall University in Huntington, WV. In honor of this decision, I thought I'd tell you guys about a couple of Marshall-related things to check out.
A few years ago, 2007 maybe, a movie was made about Marshall called "We Are Marshall." It's about Marshall's new football coach at the time trying to rebuild the team and lift the morale of the school after a plane crash killed about 80 football players, coaches, and fans. Matthew McConaughey and Matthew Fox star as the coaches.
This is the poster for the movie:
There's a new show called "Jamie Oliver's Food Revolution" that premieres this week. British chef Jamie Oliver traveled to Huntington (the fattest city in the nation) and tried to fix the way Huntington eats. I was a little bitter about it at first, because he chose an area near where I live to tackle obesity, but once I saw the "sneak preview," I decided that it's a good thing and I support Jamie 100%. If you live in the U.S., check this out on Friday. If not, check it out online.
Here's a picture of Jamie working as a school cook in Huntington: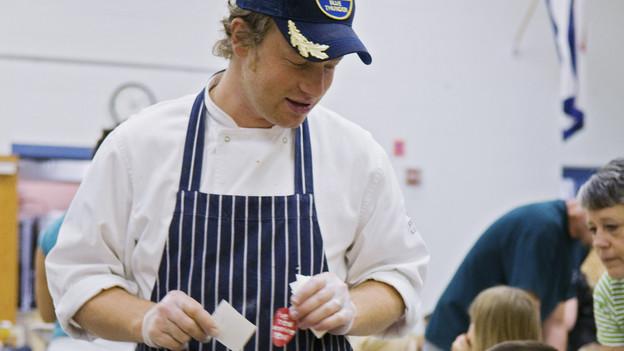 So, if you want, give those a look, if not, that's okay. I'm just so excited about going to Marshall that I have to talk about it! lol
Meg :]